Please select the program of study for which you want to apply
Faculty:
Faculty of Business and Economics
This programme with one specialisation provides a strong foundation for all economic professionals in management sciences.
(show less)
(show more)
Graduates obtain skills for both individual and teamwork in an organisation's economics and management. Graduates are also introduced with skills for both individual and teamwork in an organisation's economics and management. Thanks to the acquired theoretical knowledge and professional skills, graduates can apply principles of critical thinking in order to assess economic data and make competent decisions in organisations and economic management processes in both private and public sectors. Graduates will be able to identify, classify, analyse and interpret economic data, usually using the mathematical-statistical methods, information technology and software tools. In addition to acquiring knowledge in the fields of economics, business economics, management, marketing, informatics, accounting, taxation or the knowledge of the world and European affairs from the economical and political point of view. Graduates will be ready to continue their education in the Master study programme and to work in the business management field, management in the public sector or consulting institution, among others.
Degree:
Bachelor's studies
Duration:
3 years
Mode:
Full-time study
Tuition fees:
65 000 CZK per year
Faculty: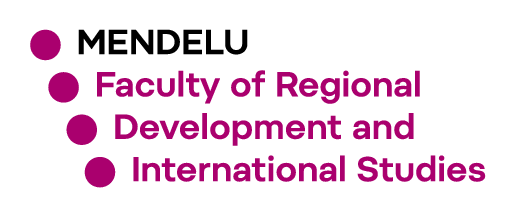 Faculty of Regional Development and International Studies
International Territorial Studies

This study will show you the real life in the developing areas and where are the possibilities to help there
(show less)
(show more)
This study programme focuses on training students in the sphere of International Development Studies, giving them the necessary competencies to work at both national and international levels wherever comprehensive knowledge of emerging countries and regions is required, with special emphasis on the issues of economic, environmental, social, cultural and political nature. Our graduates' prospective employers include national and international institutions and organizations engaged in development activities, multilateral development agencies, stakeholders in the immigration services, as well as non-governmental organizations. Furthermore, the graduates can also work in education, development planning, public administration, and media. Crucially, our graduates will be qualified for work in businesses oriented to developing countries and regions both in terms of trade and investment.
Degree:
Bachelor's studies
Duration:
3 years
Mode:
Full-time study
Aplication deadline:
2021/02/28
Tuition fees:
58500 CZK per year